Building a Zero Carbon Future
Holmesglen Institute Goes Solar with FG Advisory
Holmesglen Institute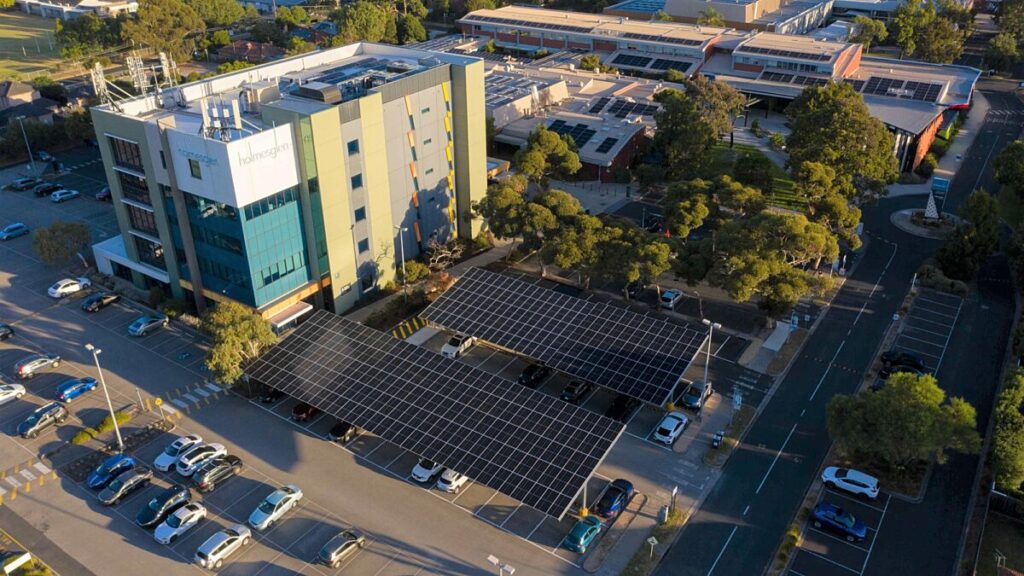 Holmesglen Institute Goes Solar with FG Advisory
Holmesglen Institute partnered with FG Advisory to design solar arrays at their Moorabbin and Drummond St Campuses. The project aimed to reduce energy consumption costs and emissions, enable new training opportunities and install Electric Vehicle (EV) chargers.
FG Advisory analysed the solar capacity at both campuses, designing and modelling optimised solar arrays, including two innovative carport arrays that provide shading and renewable energy generation. Collaborating with teaching leaders, FG Advisory designed training arrays for student use, featuring bespoke training cabinets and an ambitious array with ten different panel types to enhance learning experiences.
Additionally, three different EV chargers were scoped and specified for installation at the Moorabbin Campus after thorough research and demand analysis.
The project's results were impressive:
Environment: Optimized renewable energy systems were designed and specified, reducing energy consumption costs and emissions.
Teaching: Innovative and bespoke solar components were designed for training purposes, positioning Holmesglen at the forefront of solar installation education.
Procurement: Tender documents were issued, and tender responses were analysed, with FG Advisory providing advice for contract award.
Social: Holmesglen's sustainability profile increased, demonstrating the Institute's commitment to environmental responsibility.
Holmesglen Institute's collaboration with FG Advisory showcases the power of innovative solar solutions in education and sustainability. The project not only transformed the campuses but also prepared students for the growing demand for solar installation expertise.
Think, design, deliver
Join the Movement towards a Sustainable Future – Start your zero carbon journey today